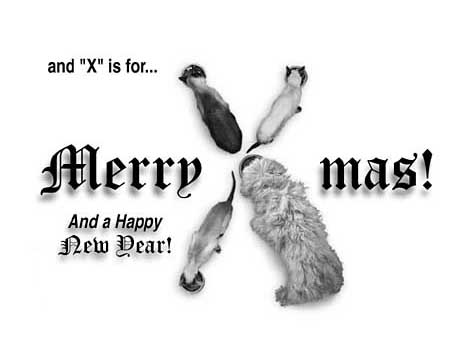 3 cats and a dog forming an "X" while eating out of their bowls. No, it's not the PETA Christmas card. Nor the Humane Society. Not even your local Petland. This isn't about those damn animals at all! I'm not a cat person. And definitely not a CATS (the musical) person. Only one reference to a cat that I do like. Whoa! Take it easy there. I know the title has "X" in it but it's not X-rated. I was referring to catnip. Which, for some odd reason, my moms sent me some catnip tea. I got nothing on that. Just seemed weird. Anyway, off the topic of the felines. I'm talking about Christmas. Well, actually, Xmas.
I was one of those card carrying Catholics as a youth. Very into my church. Loved Sunday school, going to church, the youth organization, etc. I even pondered upon being a priest in 8th grade. I was a teacher's assistant in my senior year of high school. I couldn't get enough of Jesus! I didn't consider myself a Jesus freak. Yes, his poster adorned my wall along side Madonna. Not his mother, Mary, but the singer, Madonna. Oh, I was so clever. Christmas was and is my favorite time of year. Well, December is cuz it starts off with my birthday on the 9th! By the way, I'm still waiting on those presents, bitches! I remember wearing a pin that said, "Keep Christ in Christmas." Which had a double meaning of course. Keep the name Christ as part of the word Christmas and as the other pin said, "Jesus is the reason for the season." No Xmas. That is sacrilegious! For years, the Catholic dogma had me hate seeing Xmas in place of Christmas. Then, over the years, I thought, "What's the big deal?" As long as I celebrate how I want, then who cares what everyone else thinks? Well, all those conservative Christians, that's who!
I did the research awhile back and found out when the "X" came into play. The Greek transliteration of the word Christ is Xristos, the first letter which is the Greek letter "chi". The shortening of Christmas to Xmas by educated persons who knew Greek has been common since the sixteenth century, with the "X" often symbolizing a cross. "Xmas" was an ecclesiastical abbreviation used by churchmen in tables & charts. More recently the use of "X" has been associated with irreverent commercialism, leading to the saying "Put the 'Christ' back into Xmas". The American profanity "Jesus H. Christ", may come from the second letter of "chi", and has been in the use in the United States at least since 1850.
And I always thought the "H" stood for Harold. I'll have to look that up again. So there ya have it! Xmas still means Christmas, ya religious nut heads! And, yes, the reason we celebrate this holiday, former holy day, is because of the magical birth of Jesus. Hey, David Copperfield is working on impregnating a girl without touching her. If Tom Cruise can do it, why not? And, I know there's a big debate this year over saying "Merry Christmas" over "Happy Holidays." Guess what? Who fucking cares? I say both. The only reason I might not say Merry Christmas is if I know for a fact that someone is Jewish or Muslim or a crackhead or something.
First off, let's break down the holidays in December. My birthday on the 9th. Hanukkah. Christmas. Kwanzaa. New Year's Eve. 2 out of those 5 are religious. Not my birthday, even though that is the day that you realize you all should be worshipping me. Perhaps in the future. Of course, Hanukkah and Christmas. Kwanzaa is NOT a religious holiday. It is a celebration of African-American culture created in 1966. I think it's a great idea, but I frown upon how it has been lumped in with Christmas. Curse you Dr. Karenga for putting it after Christmas! It's really only come into play the past 10 years. My opinion, they should move it to another month. I ain't hatin, but most people celebrate either Hanukkah or Christmas. Some both, if they have mixed families. But, people celebrating Kwanzaa are definitely celebrating one of the other 2. So, screw all of this lumping holidays together. They are separate. Keep em that way!
And, yes, most of the people who celebrate Christmas do so under the commercialized values set upon us by giant corporations and the like. Maybe we should just change it to SANTAmas. I'd be all for that! At least he comes out every year and let's people sit on his lap and tell them what they want. Sort of like prayer. Check out these pics. As you can see, my sis and I believe in the power of Santa.
Can you imagine malls full of men dressed as Jesus taking prayer requests? Actually, that could be cool. Hmmm....
Dear Jesus,
I've got gallons of water that I would liked to be turned into a fine Oregon Pinot Noir,preferably from the Williamette Valley. Also, I've got this annoying mole that I'd like to get rid of. It's not cancerous, just not pretty. And while you're at it, could you trim off some of my fat? How about a different girl to do my whim each week? Come on! You work miracles! Make it happen, J.C.!
Of course, if I convert to Islam and become Jimmy X, then I'll say Xmas is about me and my magical birth. To deter confusion, I'll change it to Jimmymas.
Now THAT would be sacrilegious. Got it? Good. Then MERRY HAPPY FUCKIN XMAS!
(Still 2 shopping days left to buy me that Harley!)