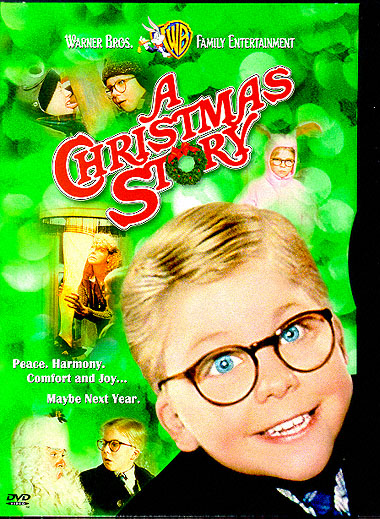 Ralphie?
or
Jesus?
That was my predicament last night on Christmas eve. I had to choose between Ralphie and Jesus. Growing up Catholic, I actually used to love going to Midnight Mass. It was a tradition I never missed. Even when I moved to NYC in '94, I went for years. My first year, not so fun. I was astonished that I had to wait in a long line for hours to get into midnight mass at the famous St. Patrick's Cathedral. Some friends and I waited and waited. We were about 20 people back and THEY SHUT THE DOOR! God did not want us in his house that night. I was heartbroken, confused, questioning my faith and pissed off! We ended up going across the street to the Episcopalian church. Or as I call them, Diet Catholics. Not as strict and the priests can get married and even be women! The Pope and the Catholic Dogma still think it's the 15th century. Those crazy Catholics!
Eventually, I started missing some midnight masses here and there over the years and it just didn't become that big of a deal. I was unsure of what to do this year. Most of my friends were out of town or working. I don't mind going by myself, but it's such a loooooooooooong mass. With the recent tragedy in my life, I thought I could go and have some sort of spiritual moment with my grandfather. He wasn't much of a church goer himself and I was pretty tired. I was afraid I might fall asleep and then the nuns would come around and smack me with a ruler like the old days. And if I was made to go to confession, it would take until February with all the sinnin I've done!
My friend, Emily, texts me about seeing a midnight showing of A CHRISTMAS STORY. Sure, I've seen it hundreds of times as they repeat it over and over each year. Now I was in a quandary. Ralphie or the baby Jesus? Both are tales of a young boy getting presents. Ralphie gets his BB gun and that gay bunny costume. Baby Jesus gets some bling and 2 types of incense. Seriously, what's with the frankincense and myrrh? Gold is hot and that king probably felt pimpin and even more so when he realized the other 2 kings brought some sweet smelling resin. Did they get robbed on the way there and stop at a 7-11 before they got to the manger? Cheap asses. I know Mary and Joseph were poor, but I woulda been pissed.
I had been out shopping earlier that day and came home and kind of passed out for a nap. Emily texts me again around 11:30. What to do? What to do? I'm kinda groggy and would probably doze off in church. I've seen the movie so many times I could recite lines, but I've never seen it on the big screen. Ralphie or Jesus? Ralphie or Jesus? Ralphie? Jesus? And the winner is....
RALPHIE! Sorry Jesus, but while your story has been around for over 2000 years, Ralphie's is only a little over 20 years old. And I wanted to laugh. Which I did. Out loud at things I've been laughing at for years. Little brother Randy all bundled up, the tongue sticking to the flag pole, the demonic Santa, the leggy lamp, shooting your eye out and the Chinese turkey. FA RA RA RA RA, RA RA RA RA!
I also watched IT'S A WONDERFUL LIFE a couple of times at home. Still, my favorite movie ever. Yeah, sappy. I don't care. Especially at a time like this in my life. I am not a sad or depressed person, but I gotta say, I was a little down this Christmas. Losing my grandfather a week ago certainly put a damper on my Christmas spirit. Seeing that movie and the hokey message it provides always puts a smile on my face.
"Remember no man is a failure who has friends."
And that I do.
Atta boy, Clarence. Use those wings wisely.
MERRY CHRISTMAS!