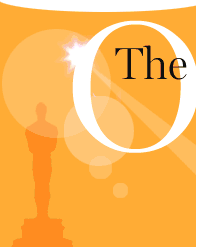 Oscar nominations were announced yesterday morning. Oh yeah...and The President made his State of the Union address too. Which was more unpredictable? Which was more shocking? Which will change the world? Sadly, probably the Oscars will change the world. The State of the Union is usually considered comedy now a days. Apparently, we're addicted to oil. That's what the President says! And, according to movie goers and the academy, we are addicted to gay cowboys. Maybe we should make a movie about gay cowboys drilling for oil. Could be on to something here!
My Oscar nominations would have been quite different. As follows:
BEST SUPPORTING ACTRESS: Emma Watson in HARRY POTTER AND THE GOBLET OF FIRE, Jessica Alba in FANTASTIC 4, Isla Fisher in THE WEDDING CRASHERS, some weird orange chick with horns in STAR WARS: REVENGE OF THE SITH, and Katie Holmes in BATMAN BEGINS.
My winner? Jessica Alba. Why? Cuz she's hot and played a hot, invisible chick. I love her.
BEST SUPPORTING ACTOR: Ken Watanabe in BATMAN BEGINS, Bob Saget in THE ARISTOCRATS, Snoop Dogg in some video, Yoda in STAR WARS: REVENGE OF THE SITH, and The guy singing the sad verse in RENT.
The guy from RENT. It made me cry. Not that I cry...I'm a big, bad dude and will kick your ass if you say I cry! Could you hand me some tissues first? I'm thinking of that song and it makes me....sniff....makes me...sniff....uh....excuse me, I gotta go.
BEST ACTRESS: Summer Glau in SERENITY, Naomi Watts in KING KONG, Jessica Alba in SIN CITY, Jessica Alba in INTO THE BLUE, and Stormy in THE 40-YEAR-OLD VIRGIN. (Technically, Stormy was barely in the movie, but she's a hot porn star. Sue me.)
Jessica Alba in ...uh...whichever. My sci-fi heart would have went with the literal kick ass performance from my new friend, Ms. Glau, but I could watch Ms. Alba read the phone book for hours on the big screen! Yes, she will be mine. It ain't stalking if you don't get caught!
BEST ACTOR: Non-gay cowboys in BROKEBACK MOUNTAIN, King Kong in KING KONG, Steve Carell in THE 40-YEAR-OLD VIRGIN, Hayden Christiansen in STAR WARS: REVENGE OF THE SITH, Darth Vader in STAR WARS: REVENGE OF THE SITH.
Darth Vader. Sure, he doesn't officially show up until the end of the movie, but he made his presence known with his "Stanley from Streetcaresque" scream of NOOOOOOOOOOOOOO!!!!!!!!! Once the black outfit is on, game over. New movie. And that movie is the first original STAR WARS which outshines these last 3 pieces of crap completely.
BEST PICTURE: BATMAN BEGINS, SIN CITY, SERENITY, INTO THE BLUE and FANTASTIC 4.
Jessica Alba. Yes, she was in 3 out of the 5 movies above. Whatever movie she is in is just plain great. I loved the other flicks, but they would have been so much better if Ms. Alba was in them. Couldn't BATMAN BEGINS have had Jessica play one of Bruce Wayne's maids? Maybe have SERENITY play the character "River's" just as crazy and butt kicking sister? Just an idea. Maybe she can be in the sequels!
Yes, there is a theme here. Jessica Alba should win all of the awards. Just cuz she's hot and I love her. Wanna fight about it?