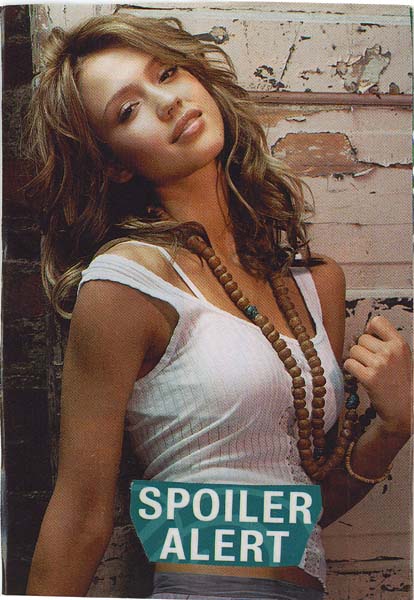 Spoiler Alert! Spoilers Ahead! Spoilers! That's what you put on your refrigerator when the food's gone bad. No, it's when your pouring the chunky milk. Maybe it's when you drink too much soda before dinner. Or is it when you find out your date has STD's. The next morning.
For those of you who read movie or TV or book reviews often, then you know what this means. That is what you say when you are about to talk about some important plot point about whatever the subject is. For example, let's say CITIZEN KANE just came out. You are reviewing it and want to reveal an important plot point about "Rosebud" as part of your review. So, you simply say, SPOILER ALERT! Which means, stop reading if you don't want to know what that Rosebud is his sled. Oops. Did I just spoil it for you? Sorry. I recently had something spoiled for me because someone forgot to put the disclaimer in their email. Sure, it's trivial in retrospect, but it's fucking annoying when it happens.
This particular instance, it was the recent episode of BATTLESTAR GALACTICA. If you haven't seen it...then, I'm issuing a spoiler alert right now about it. Stop reading here if you don't want to know any more! See? I fairly warned you! Now it's your own fault if you get spoiled! Anyway, someone watched the episode Friday night and literally minutes after it was over, emailed that it was great but she was upset that a character died. And she named the character. Which I wont, even though I gave a spoiler alert. Here I am, checking my email on my phone from work. Great! I get home and don't even want to watch. But, I do. Oh look! People are waving guns around! I wonder who's gonna die? Oh really? It was him? I had no idea. What a shock. Still a great episode, though anti-climactic for me.
I've decided I'm going to start spoiling everything for people like this. I'm gonna bombard them with emails about every spoiler I can think of. This week on YES,DEAR: the cast wonders how it stays on the air! See! Hahahhaa! I spoiled it for you! On THE BRADY BUNCH, Marsha gets hit in the nose with a ball! Hijinks ensue! Hahaha! I'm drunk with power! Kristen shot J.R.! That's really a dude in THE CRYING GAME. Luke and Leia are twins and Darth Vader is their father! Debbie indeed does do Dallas!
And the hits just keep on coming...