Easter time! Get hunting for those eggs! Eat your chocolate bunnies, Peeps, and those delicious Reese's chocolate eggs! I'm still in search of a chocolate Jesus with cherry stigmata. If you find one, get it for me! Yes, I know. Hell. Me. There. Some quick Easter questions for you. Do you think Jesus and the Easter Bunny would get along if they ever met? And, if Jesus rose from the dead, doesn't that technically make him a zombie? Could be a good movie! "He died for your sins. You didn't care. So, he came back from the dead. And he's pissed off! Coming this Easter to a theater near you, JESUS WALKS!"
I've established that it is Easter. As if you didn't know! Then why the Passover title then? Am I suddenly Jewish? Along with all of the other ethnicity's and creeds I have claimed, did I also add Judaism to my portfolio? According to my waaaaay Jewish friend, Kerri, I am an honorary Jew. So, L'chaim, bitches! Why you ask? And you always ask...I'll tell ya!
5 years ago, I went to Baltimore with my aforementioned friend, Kerri, to her home for Passover. I knew her family well and was welcome with open arms. Passover, for you non-Jews and unedumacated types, is an annual feast commemorating the deliverance of the firstborn in Egypt when the Angel of Death took all those who did not have blood on their doorpost. A bit macabre, I'd say! More positively, it celebrates the great Exodus of the Israelites out of Egypt and their freedom from slavery. What drew me, of course, was the operative word of FEAST! The first 2 nights of Passover, Seders (a service and meal) are held.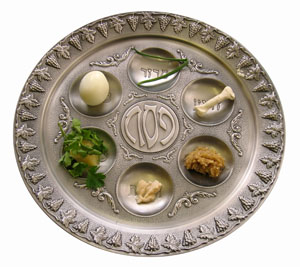 The first Seder was held at Kerri's home. Her parents had invited some guests. There were a couple of other non-Jews in the house as well. I was excited about learning the ceremony, participating and eating the food. Bring on the Manischewitz and Matzoh! I was given a beanie...uh...yarmulke to wear and placed in a prominent spot at the table near Elijah. Well, near his plate. We all gathered and they left the door ajar for ol' Eli. "He must be notoriously late.", I thought. I wasn't sure if he was a relative or friend, but obviously the holiday wasn't that important to him. The jerk never showed up! This Seder was pretty formal, traditional and serious. We enjoyed the dining and reading from the book called the haggadah. The haggadah tells the story of the Exodus of Egypt and explains some of the practices and symbols of the holiday. I got to read from it too! Now, growing up Catholic, my bible story knowledge is pretty substantial. Plus, as you read in a previous post, I have played many a religious role in plays and musicals. Some shows, like Godspell, take their text directly from the Bible. Fun stories at the dinner table! We finished up and hit the sack.
Next day, the Seder was held at her best friend's home. This was a very casual affair. More like a party. Still, lots of family and friends. However, this time, I was the only non-Jew in attendance. The mother, Rhona, was very sweet and had this smoky accented voice. Think Mike Myers in his sketch on Saturday Night Live, "Coffee Talk". She kind of looked like him up there in the pic too! Rhona gives me a big hug and kiss and says, "You're the guest of honor, so you'll be at the head of the table." This Elijah guy was normally the honoree, but, as you just read, his track record of showing up is not good. Once again, I got to put on the beanie! We sit down at the table, me at the head as promised from Rhona. She immediately comes over and offers me some Manischewitz. "Here ya go, honey! Drink up and enjoy!" As she is handing me the glass she drops it and it spills all in my lap. Of course, Rhona felt awful and without missing a beat says, "Honey, take off your pants and I'll wash them for you." I promptly did. Hey, I was a guest. So, I sat and had dinner in my boxers. No, no. Just joshing. I politely declined and toweled off the boiled wine. I know. It would be a better story if I did take my pants off. Anyway, dried off as best I could, the dinner started.
As we began reading from the haggadah, another guest, let's call him Schmucky, stopped us and said, "Let's not read from the book. Let's just talk about the story of the Exodus." Ooooh! Pop quiz time! I'm good at these! And, I was pretty confident I knew the story of Moses, Joseph and that whole Egyptian chapter. Schmucky starts talking about the story of Joseph. Another story that I was pretty familiar with. Kerri had played "The Narrator" in the national tour of Joseph and the Amazing Technicolor Dreamcoat. I was offered the show once, but turned it down for another gig. Jesus Christ Superstar, I believe. I figured the story of Jesus was more important that Joe and his jacket. Schmucky decides to play moderator and starts talking about Joseph and then asked some questions. "Joseph and his brothers, blah blah, the coat, blah blah,etc." Then he asks, "Who was Joseph's father?" Kerri and I look at each other and sing, "Jacob and Sons!" This was a song from the Joseph...Dreamcoat musical. I proudly reply with the right answer, "Jacob!"
Schmucky turns to me and says, "No, it was Isaac." Kerri and I look at each other in bewilderment. How could Andrew Lloyd Webber and Tim Rice be wrong? I defiantly strike back and say, "No, it was Jacob." Schmucky retorts, "I'm pretty sure it was Isaac." Of course, I knew I was right and replied, "And I'm pretty sure it was Jacob."
I suddenly realized I was the only non-Jew at the table and the tension that I helped create was a-w-k-w-a-r-d. Here I am arguing with a Jew, on their holiday. Even though I was right. I was about to back down out of respect when others finally piped in. "It was Jacob." "Yeah, I think Jimmy's right." "Jacob is the father of Joseph.",etc. And the kicker was Schmucky's wife leaning into him, "Honey, it was Jacob. Let it go."
Of course, Schmucky was stubborn and couldn't admit defeat. "Well, I guess no one is sure. We can figure it out later. Let's move on." NO ONE is sure? Didn't you hear the entire table of 20+ people say it was Jacob?! Still, I felt triumphant in my ...uh...triumph. Kerri and I had a good giggle over it knowing we were right. Her best friend quietly agreed with us later and said that guy was being a....well...schmuck!
Dinner continued without a hitch. The pants dried up. Old reliable Elijah never showed. Much Manischewitz was had by all. We retired to the dining room and continued to drink and party. It was actually a lot of fun! I had many people come up to me and say how I was right during the now infamous "Who's Joseph's Daddy?" disagreement. I chatted with Rhona's mother for a bit and as we left she gave me a big kiss. On the lips. With her mouth open. WHY ON THE LIPS?!! I mean, her daughter, Rhona, wanted my pants off and now this! What is up with that family?
Seders are only the first 2 nights of Passover. So, the next day, Kerri took me to downtown Baltimore. I learned of another tradition that they have. Hooters. Yep, the restaurant. It was Kerri's idea! I swear! I grew up in Florida where these restaurants started out. Dated many a Hooter's girl and had many a friend work there. So, it's not a big deal. Kerri had never been and always wanted to go. So, we did! Yeah, that's us up there in the pic. Apparently, Baltimore had slim pickings during their hiring process. Yikes!
On occasion, I crave some matzoh and Manischewitz. When I do, I go get some, wear wet pants, put on a beanie, pop in my Joseph...Dreamcoat DVD and sing at the top of my lungs, "JACOB! JACOB AND SONS!"
Take that, Schmucky.