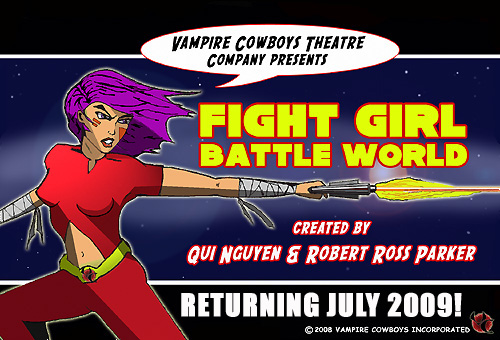 You all remember when I went to see the show Fight Girl Battle World put on by the Vampire Cowboys Theatre Company? It was last March 2008. I friggin' loved it! I even interviewed a few members of the cast for my podcast, Comic News Insider. You can read my original review here and then hear the interviews here. Well, those crazy kids of VCTC are remounting this hugely successful show. It's in the same spot they just did Soul Samurai in, so it's a bigger space this time around. But for a limited time only! That's right! Act now and they'll throw in an extra set of knives for free! You know I'll be there. It's selling out fast. The question is...will YOU be there?

I was invited to a rehearsal earlier this week and interviewed some of the cast again. All very excited to be putting the show back on. We'll play those interviews in next week's episode of CNI.

Official blurb w/ links below:
This summer, Vampire Cowboys brings back its critically-acclaimed sold-out show, FIGHT GIRL BATTLE WORLD, for a limited run to the HERE Arts Center Summer Sublet Festival. Star Wars: A New Hope meets Lara Croft: Tomb Raider in this action-packed space odyssey for the stage! Set in a futuristic universe where the human race is on the brink of extinction, FIGHT GIRL BATTLE WORLD is the story of E-V, the last human female in all the known galaxies, and her quest to find the last human male before he is destroyed by alien forces. Accompanying her is a rag-tag team composing of an ex-military General, an alien spaceship pilot, and an overly sarcastic robot sidekick.

Vampire Cowboys' fan favorites, Jason Liebman (Men of Steel, Living Dead in Denmark) and Bonnie Sherman (Soul Samurai), join the NY Innovative Theatre Award-winning acting ensemble of Elena Chang, Jon Hoche, Kelley Rae O'Donnell, Melissa Paladino, Andrea Marie Smith, Paco Tolson, and Temar Underwood under the direction of Robert Ross Parker and fight director Qui Nguyen. This is one fun sci-fi ride you're not going to wanna miss!


ONLY 6 PERFORMANCES!!!
JULY 14th thru 18th, 2009!
tues, wed, thurs, fri, & sat @ 8:30pm
plus a special late night performance on friday, july 17th @ 11pm

at HERE ARTS CENTER
145 Sixth Avenue

(enter on Dominick, one block south of Spring)

$15 Admission
For tix: CLICK HERE!
Or visit www.here.org or call 212.352.3101