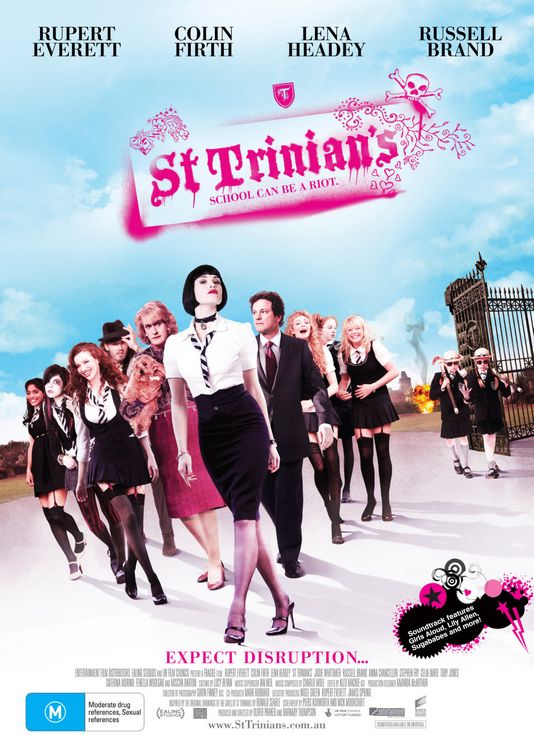 I think I found one of my new favorite films. St. Trinian's came out in the UK in 2007. It's very UK-centric and wasn't released here in the good ol' U.S.A. Being a big Anglophile, I had heard about this film from some friends and had been wanting to check it out. I finally did and loved it. What's it about? Official blurb:
Welcome to "St Trinian's," a quirky comedy set in an all-girls private school in England called St. Trinian's and run by the oddly eccentric headmistress Ms. Camilla Fritton (Rupert Everett).  It's more than a school it's an institution and a hotbed of anarchy and ill-discipline, where the academic results are an absolute disaster.  But for girls who don't fit in, like new girl Annabelle (Talulah Riley), this is the place where everyone is accepted. 
However, when the newly appointed minister of education Geoffrey Thwaites (Colin Firth) tries to take them down, the girls have no choice but to rise up with the help of Head Girl Kelly (Gemma Arterton) and artful dodger Flash Harry (Russell Brand) to defeat the establishment. 
It's one big happy, yet slightly dysfunctional family, as the girls of "St. Trinian's" go all-out to save their school in hysterical and hilarious ways.  The fun filled film stars Rupert Everett, Colin Firth, Russell Brand, Lena Headey, Mischa Barton and Stephen Fry…and the irrepressible girls of "St. Trinian's."
I mean, come on! It's naughty school girls wreaking havoc, for pete's sake! Everett is great in drag as the headmistress. Newcomer (at the time) Talulah Riley leads the cast of misfits along with then up and comer Gemma Arterton. Some really great supporting characters within the girls as they mix geeks, posh totties, chavs, emos and more. And did you see the list of big UK stars including Colin Firth, Lena Headey and Stephen Fry? 
It's just a silly and fun film of bad ass girls that you do NOT cross. Ever. I highly recommend you check it out. And the theme song at the end by Girls Aloud is catchy as hell. 
I couldn't figure out who was my favorite St. Trinian's girl. Talulah as Annabelle is smoking hot. 
Gemma Arterton looked great too. 
As did Tamsin Egerton. 
Besides looking great, they were really awesome in their respective roles. It'll probably change which girl I like best every time I watch it. And oh yes, I will watch it again.
I also watched the sequel, St. Trinian's 2: The Legend of Fritton's Gold (Released 2009). My UK brethren forewarned me that it was nowhere near as fun as the first. Many didn't like it at all. I agree that it wasn't as good but it did have some genuine laugh out loud moments. But, as my friend Iz said, even David Tennant (Doctor Who) being in the cast couldn't save it. Still, it doesn't take anything away from the first film. 
Be wary of British girls in school uniforms. Be nice just in case they are a St. Trinian's girl. You've been warned.