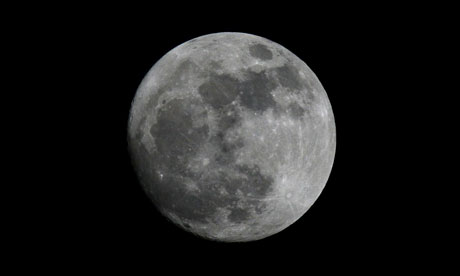 We had the "Super Moon" last night. Look up the scientific hoo ha to explain it all, kids. The lame "moon" jokes came out all over Twitter (#SuperMoon) and elsewhere. Here are some of mine (and I'm sure others used them before and/or after I did):
Maybe it's not the moon at all. I hear Spike Lee's shooting down the street. Bah humbug. #SuperMoon #NYC #RentStyle
That's no moon. It's a space station!
Methinks Ming the Merciless is effing w/ our moon. Someone call Flash Gordon! #He'llSaveEveryOneOfUs! #SuperMoon
I'm going to post an extreme close up of my bare behind. 
I'd rather just have a super MoonPie.
I expect to hear reports of super werewolves. 
One of the best on Twitter was from a proper science type. Professor Brian Cox (from the UK) had this to say. 
"So, in short, anyone who thinks the #supermoon will actually do anything to Earth tonight is ..... A NOBBER :-)"
Got it, nobbers? You can put your end of the world signs away now. At least until another 18-20 years.