Truth, Justice and the American Way. That has been Superman's motto since his inception. However, in the recent Action Comics #900, he renounced his U.S. citizenship. His reasoning is that he is an alien himself (from another planet, of course) and that his actions should be viewed more worldly and not that of the United States. Pal Laura Hudson of Comics Alliance covered this a few days ago and the internet exploded. It has made international news and people are going crazy over this so called issue. Staunch Americans are pissed off that their icon is turning traitor and are starting petitions to boycott Warner Brothers. Others are saying it's about time he became a global symbol. Me? I'm on the side of HE'S A COMIC BOOK CHARACTER side. 
If the media digs deep, boy howdy will they be disturbed by this Superman tale.
What's that you say? That doesn't count because it was part of DC Comics "Elseworlds" line where they take iconic characters and change their established histories so it's an imaginary story?" Unlike the "regular" Superman stories that are based on real life. Gotcha. 
Or what about this? Superman if he was born in England!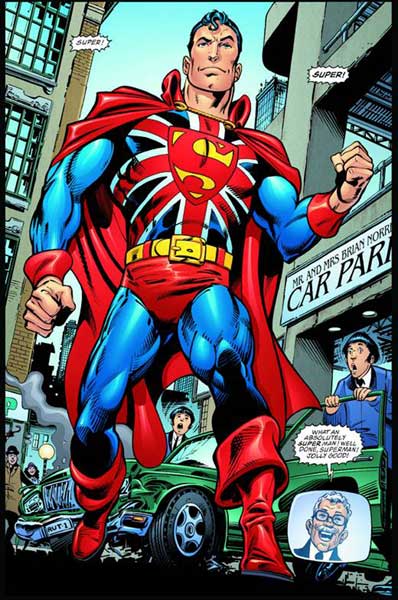 And English actor Henry Cavill has been cast to play Superman in Zack Snyder's upcoming film, The Man of Steel. Coincidence? I don't think so! 
Just remember, kids. While Superman is awesome, he isn't a real being. Now Batman on the other hand...