Of course. A big story breaks the day after I record my weekly podcast COMIC NEWS INSIDER. I know it's all over the interwebs, but here's my take.
Fanboys have been freaking out since DC Comics announced that they would be doing prequels to The Watchmen by Alan Moore/Dave Gibbons. The curmudgeonly Moore has always been against anything like that be it prequels or sequels. He has publicly shunned and talked crap about the big corporate comic companies like DC and Marvel. Gibbons, however, gave his blessing to the project. It's DC's property and they certainly have a right to do with it as they please. Sure, I'd hate to see it run into the ground and watered down but I'm open to seeing what they have coming. 
It was finally announced this morning who would be the creative teams on what books. And boy howdy, are there some big hitters involved! 
Rorschach by Brian Azzarello/Lee Bermejo
Comedian by Brian Azzarello/JG Jones
Minutemen by Darwyn Cooke
Silk Spectre by Darwyn Cooke/Amanda Conner
Doctor Manhattan by J. Michael Straczynski/Adam Hughes
Nite Owl by J. Michael Straczynski/Andy & Joe Kubert
Ozymandias by Len Wein/Jae Lee
Like I said, big hitters. I'm actually very excited about this project especially with the creators involved. There will also be a 2 page back up strip in every issue called Curse of the Crimson Corsair by Len Wein/John Higgins. (Higgins was the colorist on the original series). There will also be a single issue Before Watchmen: Epilogue that will feature work by various writers/artists and another Crimson Corsair story by Wein/Higgins. 
I get that it's a fan favorite classic series and arguably one of the more perfect comic book stories out there. But I am open to see what is in store for the prequels. Moore created such rich characters that I'm sure we all thought and wondered about further adventures that were only teased about in the original series. I just don't get the fanboy outrage over things that haven't even come out yet. I know this happens with just about any project. Especially in internet land. I'm sure the rage will continue until the release. Personally, I'm anxious to check them all out and hope for the best. 
Check out these purty covers for the books, including the one at the beginning of this post, from the likes of Comic Book Resources, Entertainment Weekly, LA Times, Wired, The Hollywood Reporter and DC's The Source.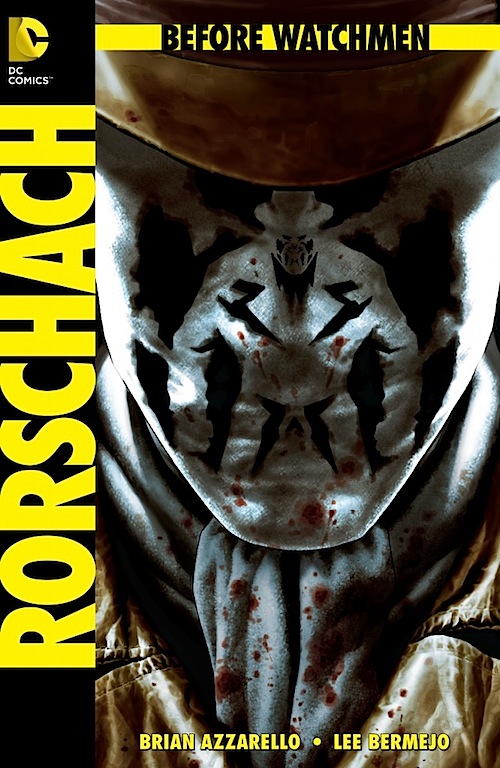 So, whilst many will rage against it all, I'm going to adopt a more hopeful "wait and see" attitude about it all. How about you?