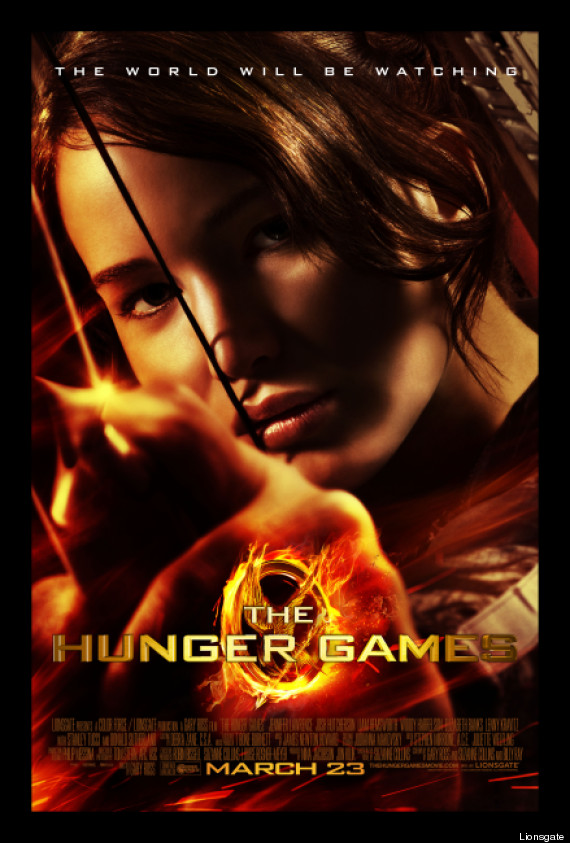 I saw The Hunger Games last night. I liked it a lot. Didn't love it though. Jennifer Lawrence is fantastic as Katniss Everdeen. I know people hate how it's being compared to the classic cult Japanese film Battle Royale but there are just striking similarities. That being said, it sure stood on it's own. If you're not familiar with it and were one of the few who didn't see it, here's the basic wiki plot (Some spoilers ahead).
The Hunger Games takes place in a nation known as Panem after the destruction of North America by some unknown apocalyptic event. Panem consists of a wealthy Capitol and twelve surrounding, poorer districts. District 12, where the book begins, is located in the coal-rich region that was formerly Appalachia. As punishment for a previous rebellion against the Capitol in which a 13th district was destroyed, one boy and one girl between the ages of 12 and 18 from each district are selected by annual lottery to participate in the Hunger Games, an event in which the participants (or "tributes") must fight in an outdoor arena controlled by the Capitol, until only one remains. The story follows 16-year-old Katniss Everdeen, a girl from District 12 who volunteers for the 74th annual Hunger Games in place of her younger sister, Primrose. Also selected from District 12 is Peeta Mellark, a baker's son whom Katniss knows from school, who once gave her bread when her family was starving.
After getting to The Capitol, they are trained and treated like celebrities before being thrown into the game dome to kill each other. All the while being televised for the viewing pleasure. Survival and brutal killings take place until the lone survivor(s)...er...survives. 
Great action and suspense. In my opinion, some weaker characters such as Peeta (Josh Hutcherson) and Cinna (Lenny Kravitz). Though I think Cinna had some sweet moments with Katniss but just felt underused or out of place mostly. As for Peeta, he just sort of bored me. Stanley Tucci was fantastic as Caesar Flickerman. 
Overall, just a really fun flick. It did a gazillion dollars opening weekend and the next film in the trilogy will be released in November of 2013.