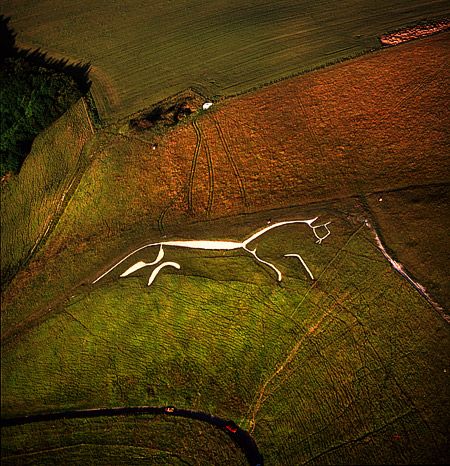 After staying with my pal Joel in London on Thursday, we drove out to Bristol on Friday for the comic expo. He wanted to stop at a couple of spots to take pictures as he's a budding photographer. The Uffington White Horse was the place to stop. That's it up there. Pretty impressive. My favorite part of the description of it was that no one seemed to know why it's there. Alas, I wasn't prepared to hike up and down the sheep poo filled fields but I made it through! It was pretty cool walking about for awhile and I took a few pictures of nature and its' beauty. 
Afterwards, Joel wanted to go over the Wayland's Smithy for more pictures. It's an ancient burial ground which intrigued me. Alas, what we thought was about a 1/2 mile walk turned out to be over 1 1/2 miles. Ugh. We did  meet a few lovely folks along the way walking with their dogs so that was fun to chat and play a bit. I was well knackered already from lack of sleep and to be honest, the site wasn't all that impressive. I guess I expected more grave stones and maybe some zombies coming out of the ground. But we got this.

Still, I am all historical and shit so it was cool to see some things off the beaten path. Just next time, I'll throw the boots on and bring a walking stick.