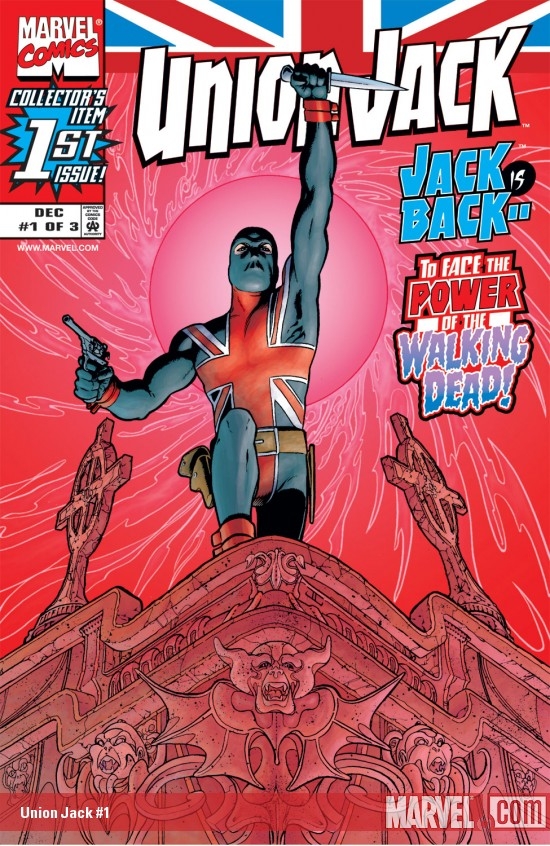 Marvel's Union Jack by my pal John Cassaday
I'm off in about 5 hours to the UK! I'll be covering Bristol Expo and Kapow Con for my podcast COMIC NEWS INSIDER. I'll also be doing some interviews for Stated Magazine as well. If you want to see me, here's a tentative itinerary.
When I land, my dear friend Anna will be awaiting at Heathrow and we'll head off straight to a Frisky and Mannish concert at 9pm and then I'm interviewing F&M afterwards. If you aren't familiar with them, and I'm betting many of my fellow Yanks are not, then click that link and find out the awesomeness you've been missing. 
I'll be staying with my bud Joel and then we'll drive out to Bristol on Friday for the Expo. Post-Expo on Sunday, I'll head to Wales with dear friends Iz and Rich to stay for a couple of days. Then on Tuesday, I'm off to Cambridge to stay with pals Emma and Pud. Thursday, I'll head over to stay with my baby daddy Jamie Smart and finally back in London for Kapow Con on Friday. The lovely Monteiths (Dave, Siobhan, Alannah) are taking me in for the rest of my stay until I return home to NYC on the following Tuesday. (I may jaunt down on Monday to stay with Anna as well). 
BUSY BUSY! I'll be doing tons of interviews and reporting on both cons (plus getting a bonus report on CamCon when I record the podcast on Tuesday with Emma and company). Oh yeah, I'll be recording a podcast or 4 when I'm over there too! 
I'll be seeing many friends and can not wait. Sure, I'll be busy working the shows but do hope to spend time with many of my UK mates. And please come introduce yourselves to me if we haven't met. There are several cartoonists attending the shows that I want to meet and we've talked about it on social media. No way will I remember all of them, so come on up and grab me! 
I expect a full royal greeting when I arrive at Heathrow. I'm sure Her Majesty will be at the gate to greet me. Just have some dark chocolate Hob Nobs and a good cup of tea awaiting. 
Now all I need to do is find a nice British bird to marry me, find a job and place to live over there. 
Any takers?