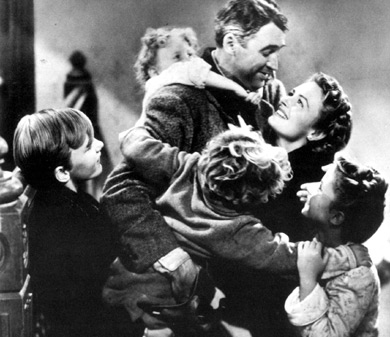 Perhaps to some of your annoyance (sorry!), I decided to "live tweet" my annual watching of my fave movie It's A Wonderful Life. Here are all the tweets in order for your convenience. You're welcome! And Merry Christmas!
Now time for my fave movie ever: It's A Wonderful Life. I shall tweet about it. Happy Xmas!
I always forget what a dick Joseph is to Clarence. Guess he's still pissed about that whole "immaculate conception" thing.
"Young Violet: I like him. Young Mary: You like every boy. Young Violet: What's wrong w/ that?" Not sure if they should have made Violet such a floozy at that age.
Seems out of character that Potter didn't sue young George for shoving him.
Oh Gloria Grahame. You could still stop traffic today.
Fun or possible fake fact. Sesame Street's Bert & Ernie were possibly named after Bert the cop & Ernie the cabbie.
Oh Papa Bailey. Like Harry WON'T drink gin at the dance. And way to guilt George into giving up his dreams.
Always seems like Sam Wainwright was the annoying friend everyone just tolerated. Hee haw!
Yes that is The Little Rascal's "Alfalfa" whom George takes Mary from at the dance. He gets his wet revenge though! #AlwaysARascal
Just how nekkid is Mary in them there hydrangea bushes? Wait...that sounds...
Potter yawning during George's big speech is perfect character trait. Just in case you forgot he's a dick.
Harry almost forgetting to introduce "the wife". Then saying "She spoke out of turn". Oh 1940's sexism!
Another possible rumor: Uncle Billy leaves drunk & you hear a crash off screen...it was a grip dropping something. They kept it in.
They play up Violet's sexiness so I don't get why she turns George's offer down. Wonder if Mary ever knew she was second. 
Love how she's playing "Buffalo Gals" when he comes in as its "their song". I'd have done the same. HEY! I can be romantical.
Weirdest/most awkward passionate kiss ever. Yet still sweet.#NoGroundFloors
Mary's right. Shouldn't have stopped the car. An Uncle Billy missed the wedding? Not cool.
Oh Tom. You and your $242. You can't take $20 to get by? And you know it's George's personal funds too. Dick.
I want to live at 320 Sycamore. Warts and all. Nice Bert & Ernie harmony.
Tell em off, George! Shove Potter's offer back in his face!#ThatGoesForYouToo 
They couldn't say the word "pregnant" on film back then. That's why Mary says "George Bailey lassos stork". #OnTheNest 
Man. Harry Bailey had a great life. His movie would be "It's THE Wonderful Life". #FootballStar #JoeColllege #WarHero 
Yes Uncle Billy is an idiot. But Potter is a thief. Why didn't they call the cops? And wonder what Violet did for a living. #Stripper
Zuzu must have been delirious to not notice George putting the petals in his pocket. And really Janey, you should know that tune.
A sucker punch, Mr. Welsh? Not cool. Don't drive drunk, George! TREE! !Small town. How did that guy not know him?
Clarence's dive. 4.5 from the judges. George's dive. 8! With a 10 from the Romanian judge! #BedfordFallsOlympics
If I have an angel come help me, can it be one of those sexy Victoria's Secret ones? Promise I'll still learn a lesson. About boobs.
I could go for a flaming rum punch or mulled wine right now. Too bad they only serve hard drinks for men who wanna get drunk fast. 
Hey Nick. You actually ARE giving out wings every time you ring the register. Silly non-believer. 
I dunno. I kinda like the Bedford Falls where George doesn't exist.#MoreStripClubs #FightsEveryWednesday 
You really shouldn't just fire blindly, Bert the cop!
The run through Bedford Falls and George's big "Eff You!" to Potter is brilliant. #ZuzusPetals #YEAHHH! #MerryXmasMovieEmporium
Love how Mary isn't upset at George when he went off on his bender. She just wanted to help him. *sob*
Great ending with practically every character in the movie giving back to George. #IBustaTheJukaBox 
Wonder after hearing Sam Wainright's telegram about the $25K donation, people thought, "Well maybe I can take my money back".
To paraphrase Clarence. "No one is a failure who has friends".#AttaBoyClarence 
Thx to all for giving me my wings. Merry Christmas!!!
#ItsAWonderfulLife #IAWL