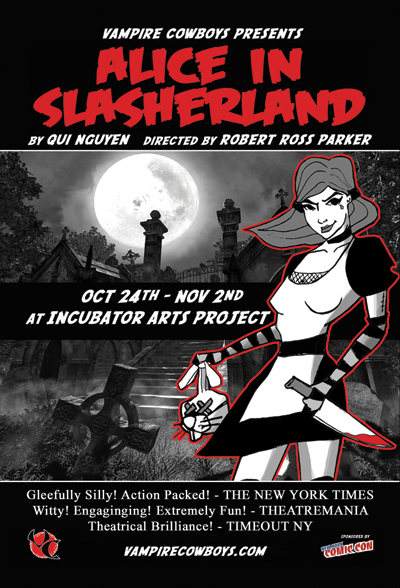 I saw the remounting of the Vampire Cowboys Theatre Company's Alice In Slasherland on Tuesday night and all I got was a huge sense of satisfaction and enjoyment! What's it about? 
When Lewis Park accidentally resurrects the soul of a brutally slain girl named Alice, he unwittingly unleashes a literal hell on Earth. Now it's up to Lewis and his newly undead girlfriend along with her trash-talking demonic teddy bear and his longtime crush Margaret to save the world!
You can also hear some of the cast chat about it on my podcast COMIC NEWS INSIDER in this week's Episode 506! While it's sold out, you can still show up and there's a good chance of getting tickets from the waiting list. So do it!